I have been waiting for the chance to create a custom sign for someone and finally it's arrived! My mom and dad journey in the RV quite often and mentioned the need for something they could proudly display that was personal and unique. Hence, I decided to take on the challenge of creating a nice looking sign that was durable, but not heavy or cumbersome.
Materials Required:
Screen Printing Emulsion Kit
Screen printing exposure unit (I built this one. There are many more sophisticated versions on the web, so feel free to look around!)
18″ x 24″ screen for printing the letters
12″ x 12″ screen for printing the palm trees (Purchase a screen for each color and be sure it matches the dimension of your graphic)
16″-long squeegee
9″ x 24″ x 1″ piece of pine wood
Utility Knife
3  – 300mil cans of water-based screen-printing ink or paint (1 pint per color)
Krylon interior-exterior clear spray paint
130 grit sand paper
1) I found a nice piece of pine for just $4 for my local Ace Lumber and cut it down to 9″ x 24″. I then took a utility knife and carved off the corners to round them out a bit. Sand it with 130 grit sand paper for a smooth finish.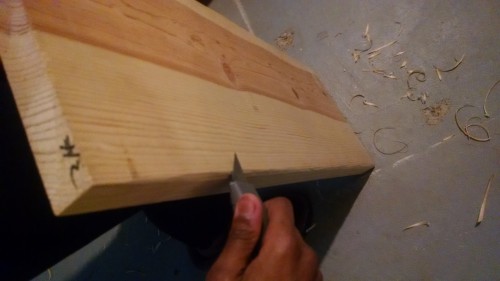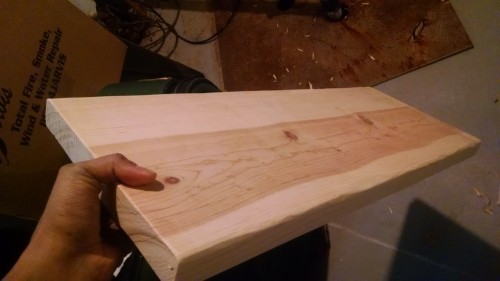 2) I then mixed my paint. I just used the water-based screen printing ink from Permaset that I had sitting around. You can do as I did and mix one part paint, and one part water to achieve a more transparent look.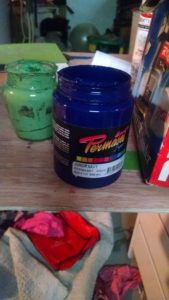 3) Apply the paint evenly with a cloth and let dry overnight.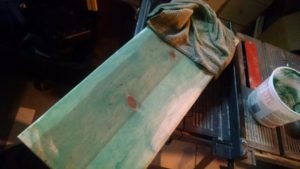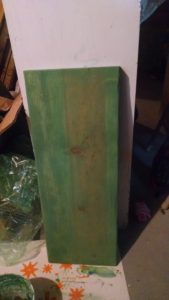 4) The next few steps involve screen printing 2 colors. I drew up the palm trees and hand-lettered the text, then scanned them all into the computer. Then I printed them all separately onto transparent sheets for screen printing. The best for a typical home inkjet printer I found are sold online at a small shop I love. The people there are great and are super helpful. It took me a bit of time, but I printed these out on 8.5″x 11″ sheets and tiled them together using scotch tape.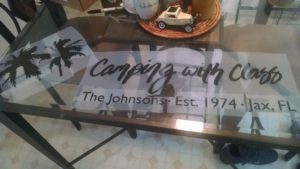 5) Once you coat your screens using the instructions on the Speedball Emulsion Kit, burn the screens using your transparencies and burn unit. See this link for a quick & easy tutorial on how to build a unit. I recommend burning one screen per color, so the palm trees should be burned onto one screen and the lettering which will be white ink, should be burned to another screen. I typically expose for about 9.5 min using the Speedball Screen Printing emulsion. Rinse the emulsion thoroughly using warm water and let you screen dry overnight.
6) Now that you have your screens burned, lay down the first color. In my case it was the orange palm trees. Let dry. It should be dry to the touch within minutes. I use a large fan to speed up the process.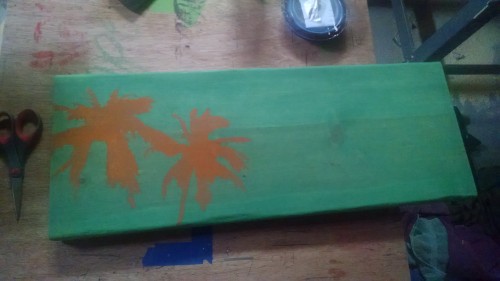 7) Next, I laid down some artists tape about 1inch from the bottom to be sure my lettering wasn't crooked. After I laid down the second color, I let it dry for about 30min. and sprayed 3 coats of Krylon clear paint to seal it and make it weatherproof. Allow 10 min between coats and you're done!